Dear Resident,
As you may be aware, on May 24th you will be asked who will best represent your area on Dublin City Council and in the European Parliament.
Make sure you're on the electoral register, and your details are up to date, by checking www.checktheregister.ie or getting in touch with me, my details are below.
Irish, British, EU and non-EU citizens can vote in the local elections. Make sure that you register so that your voice is heard on Dublin City Council.
If you are not registered, you can log-on to http://www.dublincity.ie/i-want/apply-it and select 'Supplement form RFA2″. Fill this form out and get it signed by a member of the Gardaí, and return it to:
Franchise Section,
Dublin City Council.
Block 4 Floor 4.
Civic Offices,
Wood Quay,
Dublin 8
The deadline for registering is Tuesday May 7th.
You can get the form signed in Coolock Garda Station, or at the Gardaí's pop up shop in the Junction, Clongriffin on Saturdays between 11am and 1pm.
If you have any questions about the registration process, or anything else, please don't hesitate to get in touch.
Wish best wishes,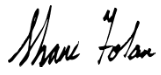 Shane Folan