When: Wednesday 27th March at 8:30pm
Where: The Junction, Station Road, Clongriffin
---
In light of recent incidents in the Clongriffin area, residents have consistently raised concerns that the inclusion of this area in the exiting Coolock Garda District is proving problematic, due to the size and population of the area, which is only expected to grow in coming years. That is why I have been campaigning with the community, and Senator Aodhán Ó Ríordáin calling for the Government to build a new Garda station as soon as possible.
Having delivered a petition with 1,200 signatures to the Minister for Justice earlier this month, I am inviting all local residents to a public meeting on the 27th March to discuss the next steps for this campaign.
We want to provide a space in which you can raise any concerns or ideas you have, and then we can discuss how we will move forward together.
I hope to see you there and, as always, if you have any questions, please do not hesitate to get in touch with me on Facebook or at hello@shanefolan.ie.
With best wishes,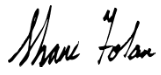 Shane Folan