I was proud to sign Not Here Not Anywhere's #ClimateActionNow pledge as the local election candidate for the Donaghmede Ward.
The pledge has been supported by Friends of the Earth Ireland Trocaire Gluaiseacht for Global Justice Friends of the Irish Environment Latin America Solidarity Centre – LASC Futureproof Clare Young Friends of the Earth IrelandFeasta Extinction Rebellion Ireland Cork Climate Action Good Energies Alliance Ireland ShamrockSpring, Love Leitrim, An Taisce Climate Committee.
I have stood with other activists calling for an end to offshore drilling, at the School Strike 4 Climate day of action and and various other similar protests. The environment is a cornerstone of my local election campaign, as I believe that our community deserves clean air, adequate cycling facilities and a green environment.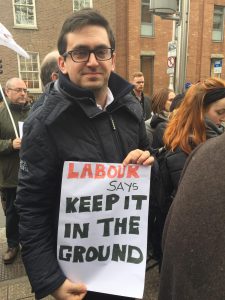 Feel free to get in touch with any questions you may have about my policies pertaining to the environment!
Find out more about the pledge by clicking here.